Meet the Ace Dental Staff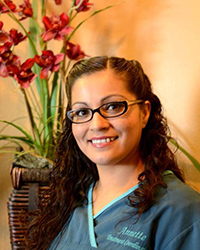 Annette Vasquez - Office Manager
Annette joined our team in 2007 as a front desk assistant. She knows both front and back duties. Sometimes you may see her sitting in the back doing temporaries or adjusting crowns for patients. Annette's biggest asset are her charming personality and positive attitude toward life. She is an expert in helping our patients to maximize their dental benefits. She acts as the liaison between our office and the insurance companies, and she helps to coordinate treatments. Her outgoing personality and ability to multi task are perfect attributes for her career. When Annette is not working, she enjoys spending time with her husband Barry and their children.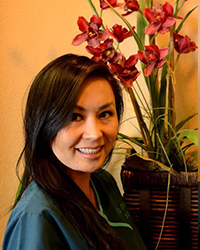 Han Pham – Office Administrator
Han has been working with us since the inception of our offices in 2005. She is in charge of staff development and scheduling. Han is married with 3 wonderful children. She enjoys shopping, traveling with her family, reading and cooking in her free time.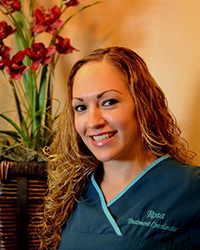 Rosa Delacruz – Treatment Coordinator
Rosa has been working with us since 2006. She is born and raised here in Las Vegas. She loves meeting new people and helping them have the best possible experience at our dental office by making sure all their oral health needs are met. Rosa is very active and spends her spare time playing soccer and keeping up with the busy schedules of her son and daughter.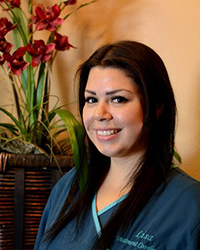 Elisa Vergara – Treatment Coordinator
Lisa joins our practice in 2012 but has prior dental experience working at another office. She enjoys greeting the patients and assisting them with their dental appointments. She has 2 beautiful young children.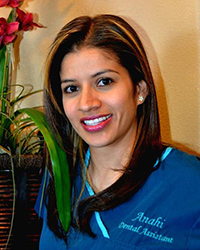 Anahi Molina – Dental Assistant
Anahi joined our practice in 2011 after working at another dental office for 3 years. Her caring, detail-oriented personality ensures that our patient's dental health and comfort remain her central focus. Anahi is going to school part-time and hopefully becoming a dentist one day.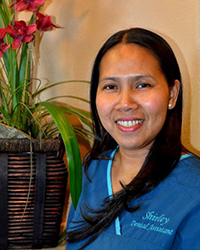 Shirley Galvez – Dental Assistant
Shirley was born and raised in the Philippine. She earned her Doctorate Degree from Manilla Dental School in 1996. She practiced in her solo private office in the Philippine for 7 years before moving to the U.S. She joined our practice in early 2013 and is a wonderful staff. She makes beautiful temporary crowns and dentures. Shirley is married and has one very handsome boy.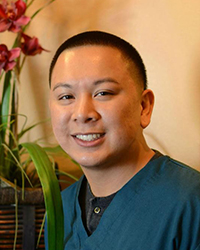 Joseph Fabella – Dental Assistant
Joseph is the youngest member of our team. He moved from Southern California and joined our team in 2013 after working for 3 years at the same practice in Santa Clarita, CA. Joseph is engaged to a beautiful nurse. Joseph is a very hard working and dedicated staff.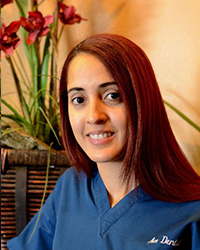 Yessica Horta – Dental Assistant
Yessica is the newest member of our office. She joined our practice at the beginning of 2014. She was born and raised in Cuba. Yessica graduated from the Havana College of Dentistry in 2010 with a doctorate degree in dentistry. She moved to the U.S. in 2013 and continues working in the field of dentistry. Yessica feels very excited to be a part of Ace Dental team and at the same time working with the latest state of the art dental equipment.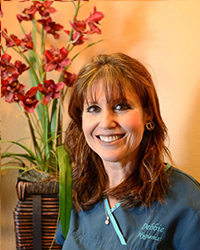 Debbie McDermott – Dental Hygienist
Debbie has been with our practice since 2007. She's originally from Northern California. Debbie loves building special relationships with our patients, and makes a point to truly know every patient that comes through the doors. She loves helping every patient on their path to improve their overall dental health. She continues her education with annual training to stay ahead of the newest technologies and techniques to provide her patients with the utmost care. Debbie is married with 2 lovely daughters.