Dentures
Full or partial Dentures
Sometimes patients cannot afford to pay for dental implants or permanent bridge to replace their missing teeth. The next best option is either a full or partial denture.
Dentures are removable dental prosthetics. There are two basic types: full and partial dentures. Partial dentures are used to replace a few missing teeth when the patient still has some healthy teeth remaining. A full denture replaces all of the teeth along the upper or lower arch, or both arches.
Dentures are designed to blend in and look like natural teeth. A gum like base holds the replacement teeth in place. If a full denture is used, the base will remain in place with the help of natural suction between the base and the roof of the mouth or under the tongue. A partial denture includes a frame that can grasp onto remaining teeth to hold the prosthetic in place.
Dr. Robert Pham can also design an implant supported denture which offers the highest level of security. While still removable, the implant supported denture can clasp onto specially designed dental implants for added stabilization.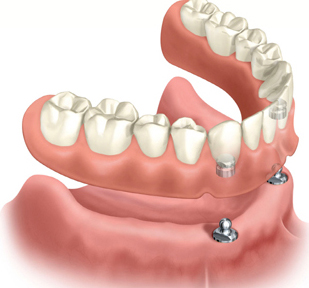 Please contact us at either our Las Vegas or Henderson office for a free denture consultation to see if you're a good candidate for dentures.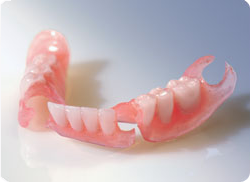 Valplast flexible lower partial denture. Valplast dentures a designed to be lightweight, smooth and comfortable against the tongue, plus the clasp blends with the surrounding tissue.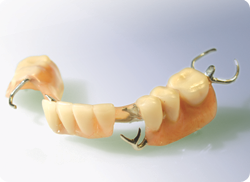 Traditional metal frame and acrylic partial denture. Functional, but ridged in design and visible in the mouth. Which option would you prefer, this one or a flexible denture?